The Adirondack Mountains are an unusual geological formation located in the northeastern lobe of Upstate New York in the United States. The mountains rise in Clinton, Essex, Franklin, Fulton, Hamilton, Herkimer, Lewis, St. Lawrence, Saratoga, Warren, and Washington counties.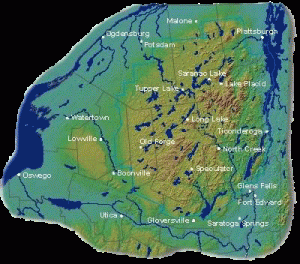 Unlike other mountain ranges that run along fault lines, the Adirondack mountains resemble a dome. They were formed by an uplift deep under the Earth's crust, about a billion years ago. They are part of the Laurentian Mountains of Quebec, Canada.[1] They are bordered on the east byLake Champlain and Lake George, which separate them from the Green Mountains in Vermont. They are bordered to the south by the Mohawk Valley, and to the west by the Tug Hill Plateau, separated by the Black River. This region is south of the Saint Lawrence River.
The Adirondacks are located in New York, The Adirondacks do not form a connected range such as the Rocky Mountains of the Western United States. They are instead an eroded dome consisting of many peaks, either isolated or in groups, often with little apparent order. There are over one hundred summits, ranging from under 1,200 feet (366 m) to over 5,000 feet (1,524 m) in elevation; the highest peak, Mount Marcy, at 5,344 feet (1,629 m), is near the eastern part of the group.
http://en.wikipedia.org/w/index.php?title=Adirondack_Mountains&oldid=531065552